Sacralizing Security: Religion, Violence and Authority in Mega-Cities of the Global South
In many mega-cities of the Global South, state institutions compete and collaborate with other organizations that offer security to urban residents. In a number of such contexts, religious organizations and vigilantes have merged to become alternative governance organizations. The emergence of religious vigilantes suggests a different connection between religion and violence than emphasized in much research on religious fundamentalism and terrorism. While religious vigilantes use violence systematically, they generally do not aim to overthrow the state, nor do they seek a global audience to witness their violence. They operate side-by-side with state actors to maintain order. Major questions are: why do mega-city residents grant these religious vigilantes authority? And what is the role of religion in the legitimation of vigilante practices? The research project SACRASEC analyzes the production of authority of religious vigilantes in mega-cities of the Global South through an ethnographic comparison of three mega-cities. The case studies focus on Christian and Afro- Brazilian religion in Rio de Janeiro; Christian, Islamic and Indigenous religion in Lagos; and Islamic and Indigenous religion in Jakarta. The research is made possible by an ERC Consolidator Grant.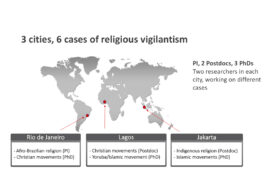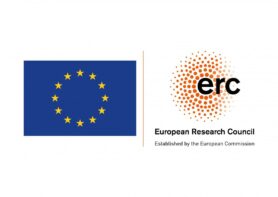 This project has received funding from the European Research Counsil (ERC) under the European Union's Horizon 2020 research and innovation program.